About Us
North Canton
St. Luke - North Canton Rehabilitation Center and Assisted Living Now Open!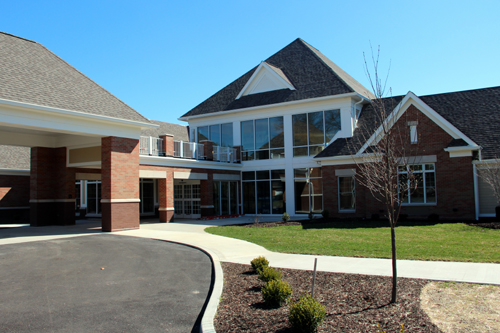 St. Luke - North Canton Opens Expansion
St. Luke Lutheran Community is excited to announce the opening of the new Rehabilitation Center and Assisted Living addition to the St. Luke - North Canton campus! St. Luke Lutheran Community constructed a major addition with an estimated construction cost of 7.7 million dollars. The 41,000 square foot addition will house a state-of-the-art, short term rehabilitation center and assisted living. Dr. John L. Spieler, President and Chief Executive Officer, stated that the project is critically important to the mission of St. Luke and represents our commitment to the region and older adults. The project is modeled after the nationally acclaimed neighborhood concept, which has significantly changed the perception of nursing homes for residents, staff, and families from one of an institution to a more home-like environment. The first floor of the addition is a rehabilitation center for patients requiring short term nursing and comprehensive rehabilitation care. The rehabilitation center includes 24 private rooms with lounges and private dining. The 19-unit assisted living facility has a separate entrance and is equipped with secure features to support residents with Alzheimer's.
The new addition is designed to provide care in a setting which supports the concept of person-centered care. According to Evelyn Moore, Executive Director, "The addition allows St. Luke to provide the type of environment and amenities that meet the expectations of current consumers. In today's world, individuals expect private rooms and facilities that feel more like their home."
Be one of the first to experience the expanded community of choices offered at St. Luke Lutheran Community! For more information please contact Valerie LeFever or Jamie Tabler in the Admissions Department at
(330) 499-8341 and follow us on Facebook at facebook.com/St.LukeLutheranCommunity.
St. Luke Lutheran Community - North Canton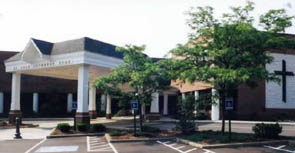 St. Luke Lutheran Community - North Canton
220 Applegrove Street NE
North Canton, Ohio 44720
(330) 499-8341
Welcome to St. Luke Lutheran Community - North Canton. We pride ourselves in our tradition of excellence and compassion in meeting changing care needs.
Ideally situated in a peaceful, suburban setting of North Canton, St. Luke reflects the love, care and dedication of many individuals. St. Luke offers its residents a fulfilling lifestyle that suits their individual needs. Residents have security in knowing that a full continuum of health care services is available if needed.
Life at St. Luke is very eventful. Residents spend their free time participating in an array of social and recreational opportunities on campus. Of course, there are always the friendly smiling faces of our staff to ensure that each day spent here is a welcome one.
The professional staff at St. Luke is ready to assist you in meeting your needs and achieving your goals. To us, caring is more than providing services. It's also treating each individual with the utmost dignity, respect and compassion.
You'll find friendly neighbors, caring staff and opportunities for lifelong learning, wellness and volunteerism, all within a secure environment. Come see what we have to offer you!
St. Luke Lutheran Community - North Canton is a not-for-profit, faith-based, continuing care retirement community. Conveniently located, residents and their families trust St. Luke because of our excellent quality of care and personalized attention. Beautifully trimmed with walking paths, gardens and charm, St. Luke Lutheran Community is a welcome retreat from worry and responsibility.
Independent Living
Our North Canton campus is home to active seniors wanting to simplify their lives in the independent living apartments known as The Waterford at St. Luke.
Assisted Living
Individuals needing a hand with minimal daily activities enjoy the comfort, companionship, and convenience of our assisted living facility.
Nursing Care
Skilled nursing and intermediate nursing care are reputable options for those dependent upon daily care and rehabilitation. We are fully licensed by the State of Ohio and are Medicare and Medicaid certified.
Therapy
Friendly, smiling faces greet residents who participate in physical, occupational, speech, and recreational therapies. Therapy is a wonderful way to connect daily with others and is available to all St. Luke residents. Out-patient therapy is also available.
Memory Support
Memory support at Laurel Valley is a specialized Alzheimer's wing designed to focus on the social and emotional needs of the Alzheimer's resident. It provides a safe environment promoting independence and dignity in a secured unit.
Respite
Perhaps you'll be out of town a few days or need a few weeks preparing the house for a loved one moving in; no matter the situation, respite stays are welcome.
Hospice
Hospice allows residents and their families to be comfortable and at peace. We see that all needs - health, spiritual and emotional - are met during the final hours of a loved one's life.
Guidelines for acceptance and participation in St. Luke Lutheran Community's programs are the same for everyone without regard for race, color, religion, national origin, age, sex, sexual orientation, or handicap.
St. Luke Lutheran Community is a member of LeadingAge, LeadingAge Ohio, Lutheran Services in America, and Lutheran Services in America- Ohio.