About Us
Portage Lakes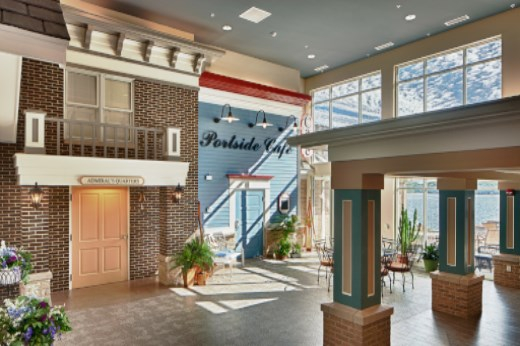 St. Luke Lutheran Community - Portage Lakes
615 Latham Lane
Akron, Ohio 44319
(330) 644-3914
ASSISTED LIVING NOW OPEN
St. Luke - Portage Lakes recently opened a 15-suite, state-of-the-art, licensed assisted living addition providing a thoughtful balance of independence and encouraging assistance to compliment the rehabilitation and skilled nursing services.
For more information about Assisted Living at St. Luke - Portage Lakes or to request an application, please contact Dorothy Somerville at (330) 644-3914.
Welcome to St. Luke Lutheran Community - Portage Lakes!
Experience the St. Luke difference. The recent addition of assisted living here has taken the comfort and beauty of our campus to an even higher level with more indoor views of the lake! In the summertime, the sensory garden is a big hit as we watch the flowers bloom in the spring, plant vegetables in the early summer, and harvest in the fall while watching all types of birds play in our fountain. We also added a brightly colored therapy room which makes the rehab exercises seem less difficult. The chapel/activity center is used for all kinds of activities and has a beautiful view of the lake where the residents enjoy watching sailboats on Sunday mornings while having coffee and doughnuts.
Our rooms are larger than most. We encourage residents to decorate and make them their own. It's always interesting to talk to our residents and see their family pictures and interesting knick-knacks.
Food is a big part of our culture; we all love food! The residents, their families and our staff all enjoy the same cuisine prepared by our wonderful kitchen staff. Breakfast is cooked to order as you rise. No early morning wake up call unless you want it. At lunch and supper you can choose from a variety of places to eat including our dining room, your room or our solarium overlooking the lake (during nice weather you can even eat outside).
We have great nursing staff. Our Resident Life staff provide all kinds of entertainment and are more than happy to help you fish from the dock. And we meet all the regulatory requirements. However, we hope you come and find out for yourself that our house is truly a home.
St. Luke Lutheran Community - Portage Lakes is a not-for-profit, faith-based, rehabilitation, assisted living, skilled and long-term nursing campus. Located on the tranquil shore of South Turkeyfoot Lake, residents and their families trust St. Luke because of our excellent quality of care and personalized attention. Small in size, individuals receive person-centered, professional care from a dedicated staff concerned for each resident's spiritual, physical, medical and social well being. St. Luke Lutheran Community is a welcome retreat from worry and responsibility.
Assisted Living
Individuals needing a hand with minimal daily activities enjoy the comfort, companionship, and convenience of our assisted living facility.
Nursing Care
Skilled nursing and intermediate nursing care are reputable options for those dependent upon daily care and rehabilitation. We are fully licensed by the State of Ohio and are Medicare and Medicaid certified.
Therapy
Friendly, smiling faces greet residents who participate in physical, occupational, speech, and recreational therapies. Therapy is a wonderful way to connect daily with others and is available to all St. Luke residents. Out-patient therapy is also available.
Respite
Perhaps you'll be out of town a few days or need a few weeks preparing the house for a loved one moving in; no matter the situation, respite stays are welcome.
Hospice
Hospice allows residents and their families to be comfortable and at peace and sees that all needs - health, spiritual and emotional - are met.
St. Luke Lutheran Community - Portage Lakes Virtual Tour
Guidelines for acceptance and participation in St. Luke Lutheran Community's programs are the same for everyone without regard for race, color, religion, national origin, age, sex, sexual orientation, or handicap.
St. Luke Lutheran Community is a member of LeadingAge, LeadingAge Ohio, Lutheran Services in America, and Lutheran Services in America- Ohio.
Assisted Living is now available at St. Luke - Portage Lakes to compliment the quality, Christian care of our nursing and rehab staff. If you'd like more information about a short or long-term stay or be placed on our waiting list, please contact Dorothy Somerville at (330) 644-3914.