Volunteer
Volunteer Opportunities
Look into my eyes...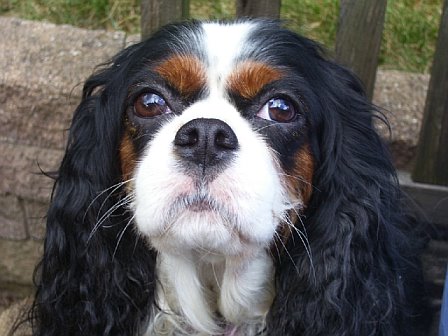 How can you resist an invitation to share some time with the residents of St. Luke from one of our loyalest volunteers? Volunteering is rewarding on so many levels. It can turn around a trying day and liven the spirits of those serving and being served.
From Olivia who spent most her life entertaining residents with funny tricks and friendship to Lee who has taken residents on many trips in the past years, examples of volunteerism are evident at St. Luke Lutheran Community. Why do people volunteer? A need to help others is one reason commonly given, but it is not the only one. Some volunteers want to fill free time with meaningful activities and still others volunteer just for the fun of it.
Whatever your reason, if you are interested in volunteering contact Kristie Woods at St. Luke Lutheran Community. Reach out and help; you'll be glad you did!
Opportunities to volunteer at St. Luke are numerous and may include:
• Planning monthly birthday parties for residents
• Entertaining residents with music, dancing
• Visiting with pets
• Gardening
• Decorating for holidays and special occasions
• Reading to residents
• Ministering to residents
• Providing birthday and Christmas gifts
• Organizing fundraisers
Groups who often serve as volunteers include:
• Residents' family members and friends
• Churches and religious organizations
• Secondary and vocational schools
• Community service organizations
• Local companies, and
• Seniors groups
As Olivia demonstrates, our volunteers come from all walks of life. They willingly share their God-given time and talents. Many of our volunteers are seasonal volunteers who have found a few hours a year to help with a one-time project. Others have set aside time daily or weekly. In small or large amounts of time, there is so much you will learn about yourself. Volunteering shouldn't be viewed as time sacrificed with your family. Involving the whole family will strengthen your relationships with your spouse and/or children. You don't have to take our word for it. Stop in and you will see it on the faces of our residents, volunteers, staff, and even a few wagging tails!
Kristie Woods
(330) 966-5626
kwoods@stllc.org
National Volunteer Appreciation Week
National Volunteer Appreciation Week was in April. Annually our volunteers are honored at a luncheon celebrating the difference they make in the lives of others.